Shikae's Bandana
is the bandana
Shikae
is always seen wearing on his head.
Bull
took this bandana after successfully landing a blow on him, after which
Joukyuu Kunitoshi
took Shikae out. Bull then showed it to his gangmembers, much to their amazement as they thought he had avenged them from before (Shikae took them all out once).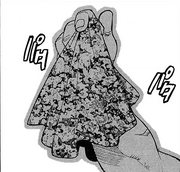 Ad blocker interference detected!
Wikia is a free-to-use site that makes money from advertising. We have a modified experience for viewers using ad blockers

Wikia is not accessible if you've made further modifications. Remove the custom ad blocker rule(s) and the page will load as expected.