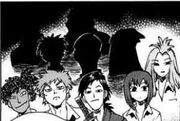 The Ten Knights are an essembly of enforcers that serve the top fighter at Juuzenji High. The organization itself is loosely knit with the members caring little for the well-being of their comrades.
Original Members
Edit
Background
Edit
Karasumaru Kosuke was originally the leader of the Ten Knights. However, when he was beaten by Takatori Miu in Chapter 15, she became the top student of Juuzenji High and kicked him along with Eishou, Kangen, Meitoku and the Unnamed member out of the Ten Knights. She also appointed Kizuki Rin as the new Ten Knights' Captain, while she herself remained as the School Top.
Ad blocker interference detected!
Wikia is a free-to-use site that makes money from advertising. We have a modified experience for viewers using ad blockers

Wikia is not accessible if you've made further modifications. Remove the custom ad blocker rule(s) and the page will load as expected.